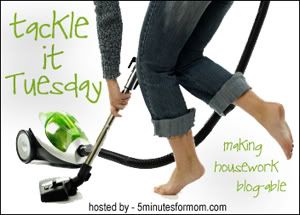 A month later and I am finally seeing the light! As some of you may know, my stress levels and sanity was tested when my basement flooded. To read more about that - Click Here.

This past week I have really begun to make some progress on getting things back in order. Here are my accomplishments:

Remember when I said all my food and stockpile items that weren't ruined in the flooding were sitting in boxes in my dinning room?



~~~Not anymore~~~


My cupboards are STUFFED and I had to make some arrangements in the kitchen but I got everything put away for the time being. At least things are more organized and I can find something to eat now. I found storage and places to stuff things I never thought of before.

I refused to go shopping or put anything else in my fridge until I got it cleaned out. You know it's time to clean out your fridge when you become fearful of opening containers.

Here is my pretty fridge - all cleaned out - ready to go shopping!!



I have learned something with my garden. At the end of the season, pull any plants and leftover veggies. I didn't do this last year and so this year I had tomato plants EVERYWHERE. Not only the ones I planted this year but also the tomatoes that were left over from last year began to grow. My thinking was that that leftover tomatoes would just get mixed back in with the soil - the same as when you put them in compost so it didn't hurt to leave them in the garden at the end of the season. Apparently it does cause that is the only reason I can come up with on why I had so many tomato plants. Maybe someone who has more experience in this, can tell me for sure.

So anyways - I got all the extra tomato plants cleaned out and weeded. I had to transplant some of them so they are a little traumatized in this photo - but they should perk back up. I wish I would have taken before pictures because really, this whole garden bed was COVERED with tomato plants and weeds. The bare spot is where my green peppers were supposed to be growing but after I pulled all the weeds and tomato plants - I didn't see any green peppers. Not sure what happened there. So I planted some more green beans.


Here is my other garden bed - mainly for herbs and lettuce. This is still a work in progress. I managed to weed one section where my lettuce was supposed to be growing and found a few plants. Also found some parsley and sage. I think the weeds killed off most everything else. Sad to say. I picked up a few more herbs this weekend. I want to replant and hopefully have enough time before the end of the season to get something to grow.



Yesterday I mowed the lawn for my husband. He's been working so hard in the basement and trying to fix other things around the house - just wanted to help him out. Normally I don't mow the yard - that's his thing. But I know it was appreciated.

I have also officially defeated the huge mountain of clothes growing in my attic. I have gotten all the kids summer clothes out and winter clothes and future clothes are now stored neatly in their individual totes. All the clothes no one can wear anymore are now out in the garage ready for the garage sale that I am having this weekend. Yes, in the mist of this crazy month I decided what a great time to have a yard sale!
One other thing I accomplished just last night - my dinning room table! It's been pushed over to the side of the room and piled high with all kinds of things for the past month. Last night I finally got the dinning room organized, took the kids TV, VCR and DVD player and movies up to the attic for the time being and cleaned off and found a place for everything on the table. I got it pushed back in the center of the room like we normally have it and it looks much better.
Yup - finally seeing the light!