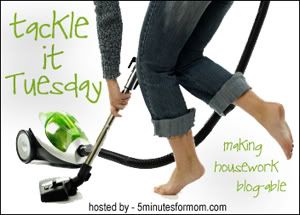 Okay, this is actually my husbands tackle, but I did get him motivated to hanging up these beautiful plates I found at a yard sale LAST summer.



Yes, I did say I bought these plates last summer at a yard sale and they have been sitting in a rotating moving box ever since. You know, one of those boxes of 'to do things' that seem to move from the front room, to upstairs in the attic, to the back door to go out to the garage, back to the front room because you think you might actually go through the box - until it moves again to another place in the house. The time had come and the rotating moving box had to go. One of the things in the rotating moving box was these plates - with all the plate hangers we had also bought nearly a year ago. Sad isn't it? So, I got them out Saturday and before I left for the store asked my husband if he could get them hung up for me. By the time I got back, they were already hung up! Yes, I love that man of mine
When I saw them at the yard sale I fell in love with them. I loved the colors and the simple-ness of the design. The larger plate still had the price tag on the back of it - $49.99! My goodness, I can not even imagine paying that much for a plate - no matter how much I loved it. I bought the larger one at the yard sale for $4 and the 4 smaller ones were $1 each.
So tell me, anyone else have one of those rotating moving boxes around there house - or is this just me?