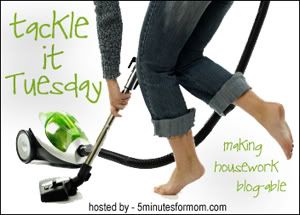 Last week on Tackle It Tuesday I read where at least 3 other bloggers had tackled their spice cupboard. This inspired me to tackle my own! My spice cupboard is high above my kitchen sink. Being the shorty I am - it's frustrating to always use the stool to find what I need because I can never see what's going on up there. All the little bottles of spices and what nots get lost in the mix of the bigger bottles. I think I may have found a solution!

Here is my spice cabinet before:


Here is some other stuff that is 'suppose' to go in the cupboard. However, I pulled everything out last week, looking for my tiny bottle of vanilla so it's been sitting there ever since.



Don't pay any attention to that basket on the left. That was going to be the basket I used for my plan but it ended up being too big and wouldn't fit in the cupboard. I found this out AFTER I had everything in there the way I wanted it - I guess maybe I should have checked to see if it would fit first. So, my plan was to take all my baking supplies, spices and other tiny what nots and put them in a basket on one side of my cupboard. This way all my baking supplies would stay together and the tiny bottles wouldn't get lost in the mix with all my bigger stuff. I am hoping that this will make it easier when I bake something then I can just pull out the basket and have all my sugar, spices, cocoa, baking soda and powder all in one place - opposed to having to dig for everything separately in the cupboard. Here's hoping anyways...

So here are my after pictures:



I guess this dosn't show my basket too well, but it's over to the right. All my bigger bottles of olive oil, vinegar, cooking spay is over to the left. Notice I have a spice rack below my cupboard, that holds all my herb spices - usually not my baking spices like nutmeg, cinnamon etc.

I am hoping that it will go something like this when I am ready to bake. Just pull down the basket and have everything I need...